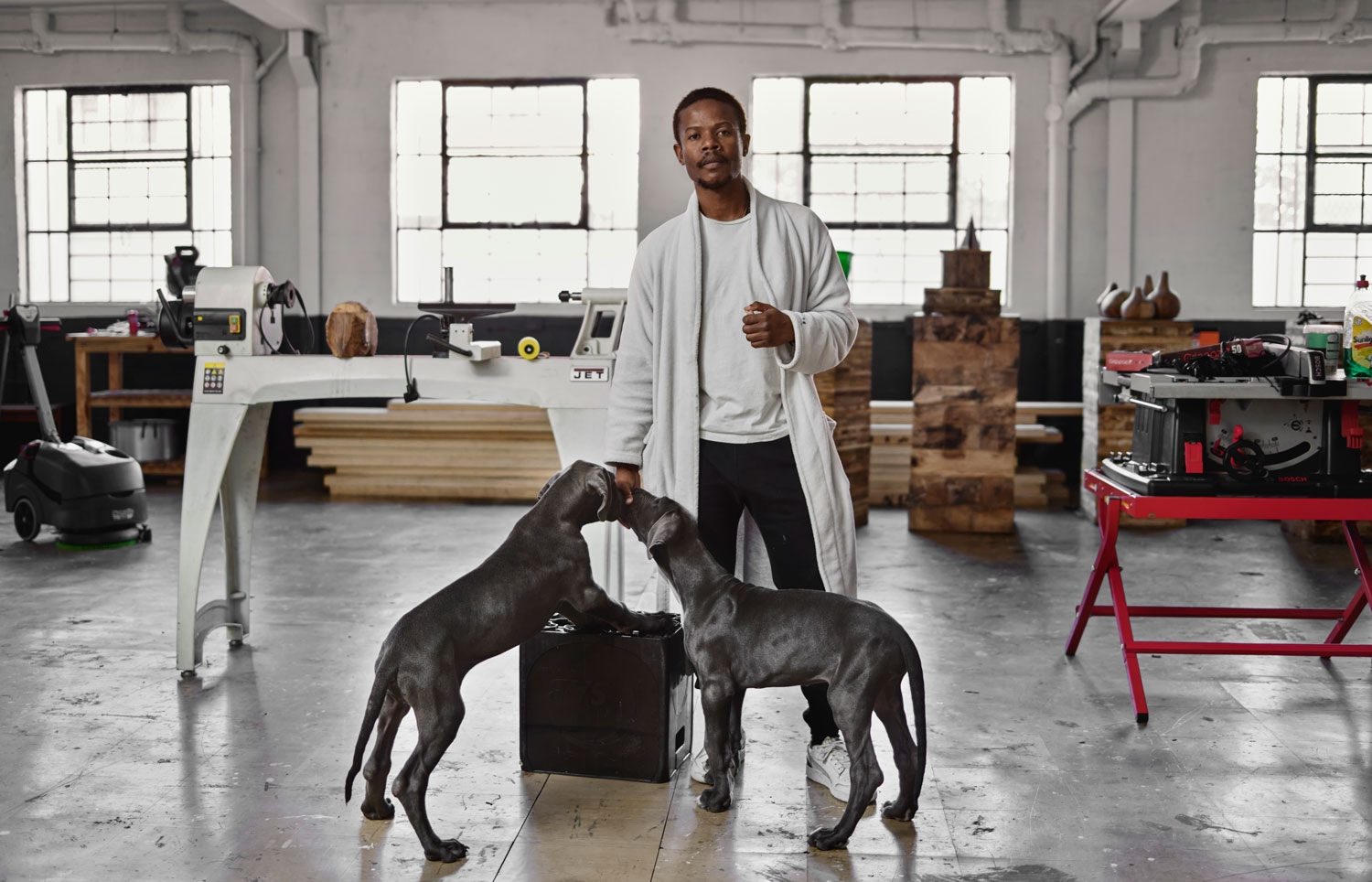 ---
Cinga Samson
The Depths of Mystery
Text by Charles Moore // Portrait by Nina Lieska
South African artist Cinga Samson stumbled upon his career in the arts. In 2006, at just 19 years old, he walked by the Isibane Creative Arts studio in Cape Town's Khayelitsha neighborhood. The artist traveled often in early childhood, brought up going back and forth between Cape Town and the rural Eastern Cape region of the Transkei. So began a life in the arts. The moment he first entered Isibane, Samson realized that so-called practical career paths in law and medicine were off the table; he knew he would do whatever it took to spend his life in the studio. At that time, the artist—a meticulous worker with remarkable attention to detail—spent days working on a single drawing, paying close attention to the working artists at Isibane, who depicted township scenes in South Africa. His commitment to the visual arts notwithstanding, Samson's mentors didn't care much for the teenager who had infiltrated their space with such limited experience. Yet Samson was naïve enough, in his words, to come back. Day after day, he'd visit the space, improvised materials in hand, eager to draw and observe, molding plastics and finalizing sketches—absorbing the creative environment.
Weeks passed, and one of the artists took notice of Samson. Eventually, the group stopped complaining about his presence, and from that point forward, the artist had his studio space. His persistence, it seemed, paid off. Samson began working from dawn until long past dusk, toiling away until the early hours of the morning to hone his technique. He became a staple in the Isibane community, facilitating meetings for local artists and welcoming those from the surrounding area. The artist notes becoming a true part of the clan, a milestone that led to his first sale in 2007. During those first few months of art-making, Samson couldn't always afford canvases, but he was resourceful—and he scavenged whatever materials he could find. He has his then-girlfriend to thank in part for his first sale, her family having wedged a large Masonite board, left behind by a construction crew, behind their fridge. The artist created a frame for the material, using that 2 x 1.5-meter item as a large-scale canvas and from a colleague, sourced an enamel industry paint known for being hard on the lungs. It was then that he created his composition, a figure of some sort, a vase pouring liquid. When an art consultant named Jeanetta Blignaut dropped by one day, she noticed Samson's painting standing in the studio and approached the artist outside, asking him what he would sell the work for.
The rest was proverbial (art) history. Samson grew more ambitious—and Jeanetta kept returning. He became one of the artists whose work seemed to be in demand.
Samson's trajectory is inspirational. The artist emphasizes that he wasn't unhoused or displaced in any way—he knew where home was—but that he embraced a nomadic lifestyle. He would go days sleeping in one studio or another, moving around and meeting other artists, always working but only rarely spending more than a short time in one place. Periodically, Samson would return home, yet he was restless. His father, meanwhile, grew worried. He began to ask his son what he was doing, and how he might support himself as he moved further into adulthood. He began to insist that Samson consider a more conventional career. And yet, the emerging artist stood firm in his decision. "We were just a bunch of artists together in the city," he said of his life at the time. Every show there Samson was, he and his friends together, enjoying the food and drink, embracing the artistry that brought them together. Samson and his peers traveled throughout Cape Town—wearing the same clothes, their hair in the same dreadlocks, making names for themselves. This sense of community brought Samson comfort, propelling him through the uncertainty of those first years of painting. By 2016, when Samson joined the Blank Projects Gallery and pieced together his first serious solo show, it seemed as if the artist had found a more secure home in the scene.
Ask the fine art painter about his process from idea to work on canvas, and he'll explain that it starts as a "glitch"—as something the artist can't escape. An idea might take over his mind, and the seeds for the work are ultimately planted. Samson explains that the more he thinks about his themes, the more the compositions simply come to him. He cites as an example his 26-work solo exhibition Iyabanda Intsimbi / The metal is cold, composed of portraits and large-scale compositions inspired by an act of violence he witnessed following a prior show in New York. Anger, the sensation of being violated, a trap of sorts—Samson felt compelled to document the act of brutality he observed the same day he touched down back home in South Africa. The artist refrains from describing the incident in detail, but he references guns—that cold metal for which the exhibition was named—and depicts the aftermath with precision and grace. Here Samson has coped with the trauma of violence in elegant visual form, exploring difficult situations with the goal of making sense of them. Elaborating on the exhibition title, Samson states that by placing a piece of cold metal against the skin, it becomes part of you—simultaneously rejecting you and fusing with the body in a manner that resembles a design flaw. "How do you paint beauty and terror?" he asks. After developing an idea for a painting or series, the artist sets out to determine what the final work might look like. He organizes a photo shoot, complete with models and props, and only then draws on the canvas. He grapples with questions such as showcasing fear in a natural, discreet fashion, infusing it into a male figure, and depicting the contrast of human existence. Some feelings are abstract, while others are almost confrontational. The manner in which Samson navigates this seems effortless.
His portraits feature subjects who appear authoritative and nearly religious at times, each figure dark-skinned, eyes and mouths ghostlike and light. The works transcend God and man, creating an overarching holiness in contrast to the haunting palette, culminating in a unique atmosphere that blends lush vegetation and an overwhelming presence of something or someone. The artist applies different layers and textures throughout a merciless background, heavy and dark, a haunting yet captivating physique, the lightness of fabric, a transparent veil, or a piece of lace. Samson's process is romantic and sensual, intimate and addictive; he states it can make a person lonely, though it also feeds him. He inspires viewers to find poetry across the globe, inviting others to inhabit striking spaces that combine darkness and light. The works are religious, yet free from overt symbolism. Samson prefers to transport his subjects to a more cosmic point. There are lyrical subtleties at play though, together with a certain innate visual language, that seems to identify each painting as inherently African. That said, the palette shifts with every work. A quiet night, Samson explains, will inspire more muted colors. "When the moment is still, those colors need to support that feeling," he elaborates. Those colors are at times cold and brutal, merciless even. Yet they must be intentional, they cannot be erratic. Always, the artist incorporates a modicum of light passing through the darkness.
The act of violence that inspired Iyabanda Intsimbi / The metal is cold won't soon leave Samson. Following the incident the artist began to think about all of the violence he had experienced throughout his life, noting how similar stories seemed to be all around him. He began to think about life more generally, dwelling on its randomness, that no matter how hard a person might try to protect themselves, they still risk losing the sense of safety on which they've come to rely. The process has been intense, though, through his art, Samson has clung to the cathartic aspects of addressing this subject matter. "There's something very romantic about being alone in the studio," he states. "It's sensual. It can also make you lonely." Yet Samson doesn't let this loneliness get to him; if anything, it's inspirational. "I see myself as a poet," he adds. "I don't have to be logical. I don't have to make sense. I love the sensation of ambiguity."
"I don't have to be logical. I don't have to make sense. I love the sensation of ambiguity."
Samson goes on to explain that he never runs out of ideas. His main challenge is time. When pressed, the painter describes not always knowing which ideas to run with, and which ones to leave behind. Samson is currently working with a group of artists between 19 and 40 years old, with the majority skewing under 30. Celebrated internationally and in his native South Africa, Samson does not take for granted the fact that his story inspires these younger artists' practice. Those artists that come to help the painter in his studio—perhaps leave with the inspiration of forging a career of their own in the arts down the road. This tradition mirrors that of the European Masters who have long inspired Samson, opening one's studio to work with others, engaging in intergenerational mentorship, and passing on techniques and theories for the future. "I am one of a few painters from my region who have come up internationally in this time," he explains. "I know my significance [in Africa]." Art can create those possibilities. When it comes to African art, Samson underscores that his works are designed to help tell the truth about the time we're in. His haunting figures exude an appeal so striking one might call it universal.
While Samson can engage in conversation about his passion, he acknowledges that having other people's lives and jobs at stake has changed the dynamic of his art-making. Yet the group mentality creates a vibrant scene. Even Samson's studio is bustling with life when his staff is on the clock. In his office, Samson introduces a man named "Mr. B," his accountant. Four people work on each canvas at any given time. The space is dynamic, especially now, as the artist and his team were gearing up for a solo exhibition in July 2023 at White Cube Gallery in London. To help clear his mind when the process becomes overwhelming, pool and ping pong tables inhabit the space. There are games on the floor and some experimental items. Then, there's a quiet section, a place where Samson thinks and sketches, conducts research, and crafts smaller paintings. It's challenging for the artist to focus on just one thing. There are constant demonstrations, and adjustments designed to tweak a color or texture. Every 15 minutes, the artist must gear up to work with somebody—to assist or guide them, to offer his input, or to receive feedback from someone else.
To the artist's surprise, there are times painting feels like a job, particularly where deadlines are concerned. Samson, of course, is above all else appreciative of the opportunity to focus on what he loves. He highlights that there is a great deal of intuition at play in his process and a lot of collaboration. He wouldn't have it any other way.