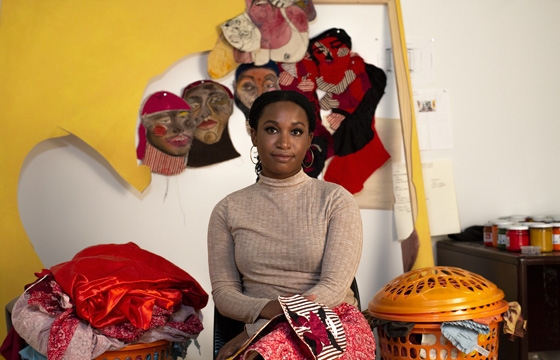 Tschabalala Self
Color, Community and Culture
Interview by Anne Ellegood and portrait by Madeleine Hunt-Ehrlich
After seeing Tschabalala Self's work in a group exhibition curated by Jamillah James at Art + Practice in Los Angeles in 2016, I couldn't get her images out of my head. At once irreverent and tenderly poignant, her approach struck me as formally inventive, but more importantly, politically imperative. In celebrating the black female body, she acknowledges the fraught histories of representation that have largely trafficked in stereotypes and distortion. When I invited Self to do a Hammer Project and she visited the museum, we both quickly gravitated toward doing an iteration of her Bodega Run series in our lobby gallery. Situated at street level, adjacent to our lobby and parking garage, the gallery's unconventional site and external glass walls made it the perfect space for her lively re-creation of these common commercial spaces. With neon signs on the façade and a colorful interior heralding the gallery, the installation depicts ordinary people, both in the form of her painted and sewn collages and as freestanding sculptures, intensifying the dedication found in her earliest works by portraying poised, confident, and self-possessed people. Self elaborates on her interest in the bodega as an urban gathering place.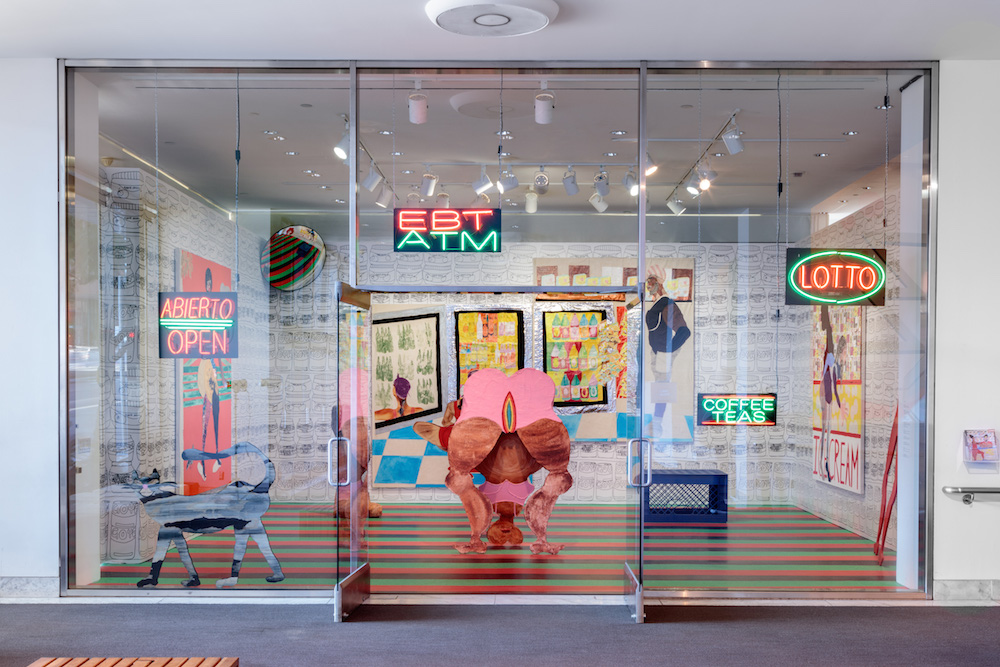 Anne Ellegood: What initially drew you to the bodega as a subject for your work?
Tschabalala Self: I was initially drawn to the bodega because I saw it as a neighborhood landmark. The bodega is an institution of sorts that exists in Harlem, and similar neighborhoods like Harlem through the metropolitan Northeast. I was initially attracted to the bodega for its iconographic significance.
Your Bodega Run series of installations both celebrates and critiques its role specifically in communities of color. You have described the bodega as, "a lighthouse in an ocean of gentrification," and a "hood menagerie." Can you talk about the positive role it has played in urban life?
One of the most positive aspects of the bodega is its commitment to community. The bodega is a store created by people of color to serve communities of color. The bodega is a clear example of POC business and should be celebrated in that regard. Bodegas emerged out of a need for basic necessities, food and goods in communities that were generally overlooked by larger businesses. I have described these stores as "hood menageries" because they sell an assortment of items which are unique to the needs and tastes of their patrons.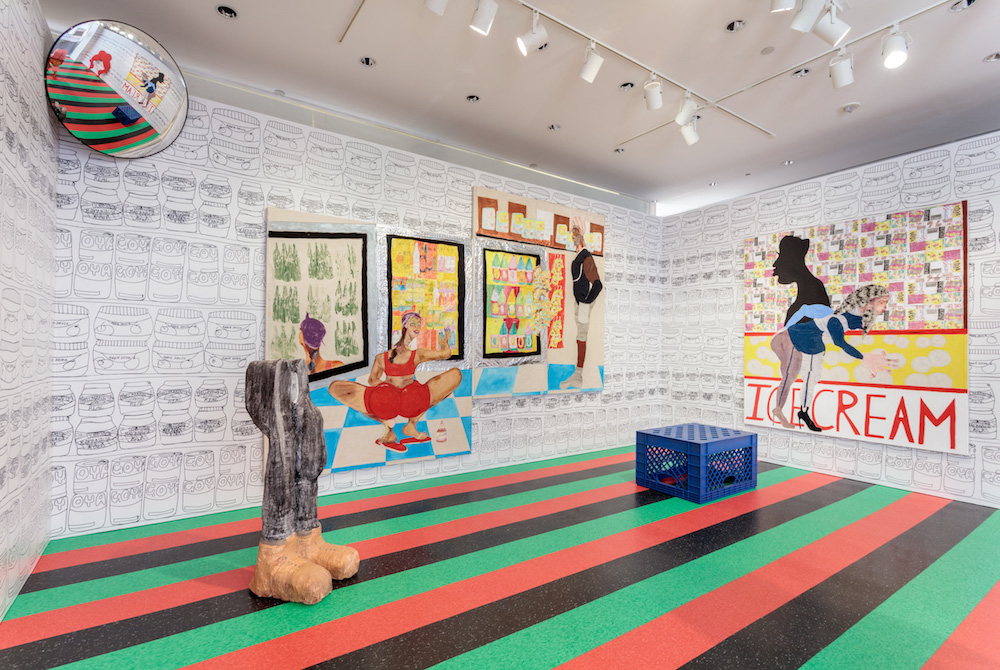 But you have also criticized the bodega for its role in perpetuating potentially harmful habits. What do you find problematic about some aspects of it as a business model?
The problematic aspects of the bodega relate to the non-ordinary grocery products sold inside these stores—malt-liquor, loose cigarettes, lotto tickets, and junk food. In general, these products are marketed to communities of color at higher rates. Within the bodega, these products drive large amounts of traffic.
There is a sensuality to the women you portray, which brings to mind the words of James Baldwin's 1963 book The Fire Next Time: "To be sensual... is to respect and rejoice in the force of life, of life itself, and to be present in all that one does, from the effort of loving to the breaking of bread." This seems like a beautifully apt description of the women you paint. Can you talk about sexuality in your work?
I am dedicated to giving my women a sense of sensuality and sexuality because I believe it speaks to their power and multidimensionality. Sexuality is a fundamental aspect of humanity and it only makes sense for me to include this aspect in my subjects. The Black female figure is so often deprived of joy and pleasure in conversations surrounding her subjectivity, and for these reasons, I believe it is important to allow my subjects to stand within their sexuality, almost in defiance.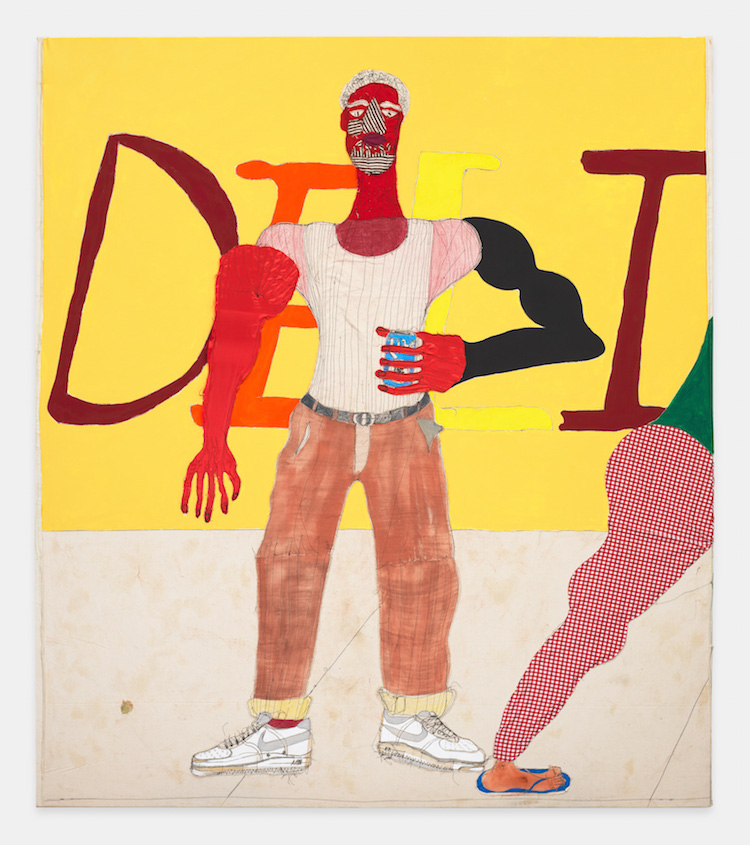 Turning to your formal choices, your paintings often include much more than paint on canvas. Actually, they are collages that often use a range of different materials and pigments (acrylic, watercolor, gouache, colored pencil, Flashe paint) and include cut-fabric elements that are sewn to the canvas, and embellishments like sequins and glitter. What originally drew you to collage? And how has sewing impacted your work? The thread from the sewing machine serves a practical purpose, but you also use it as a way of drawing imagery onto the canvas; for example, creating the swirls of smoke in the new painting made for your Hammer Project, Loosie in the Park (2019).
I was first attracted to collage because of its mutability. Sewing is a much better vehicle for collage than decoupage. Sewing has impacted my work tremendously, for sewing allows me to collage onto canvas. Once I removed material hierarchies from my mind, I began to see canvas itself as a textile. This gave me the confidence to work with it as such.
One of the things I really admire in your work is your subjects, the many women you portray, but also the various customers and shopkeepers who inhabit your bodegas, are regular, everyday people. They are not famous, or infamous; rather they are familiar folks, as one would see in their corner store or walking down the street. Why is it important for you to portray ordinary people engaged in quotidian activities, or simply just being?
I believe it is important to depict ordinary people engaging in everyday activities because #blackexcellence can be a burden. You should not have to be excellent, famous, or unique to be granted dignity. Everyone's story is infinitely complex.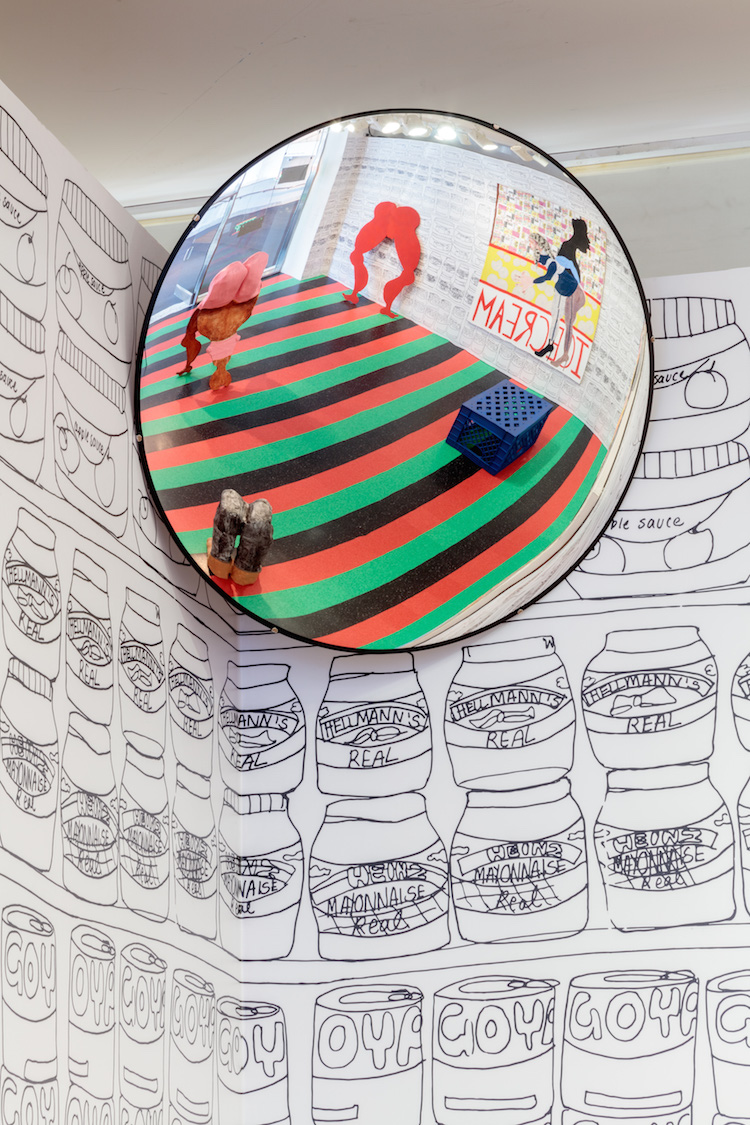 How do you begin a painting? Do your figures come completely out of your imagination, or do you ever work from photographs, and do you take up people you know as subjects?
I begin a painting usually from a drawing. I like to draw from memory. I often say most of my subjects are imaginary, but they are actually combinations of people I know, have known in the past, or have seen in real life.
What artists—both of earlier generations and your peers—are important to you, or do you find inspirational?
Faith Ringgold, David Hammons, Henry Taylor, Deana Lawson, Howardena Pindell and Nari Ward—I could go on, but these are artists I am thinking a lot about right now.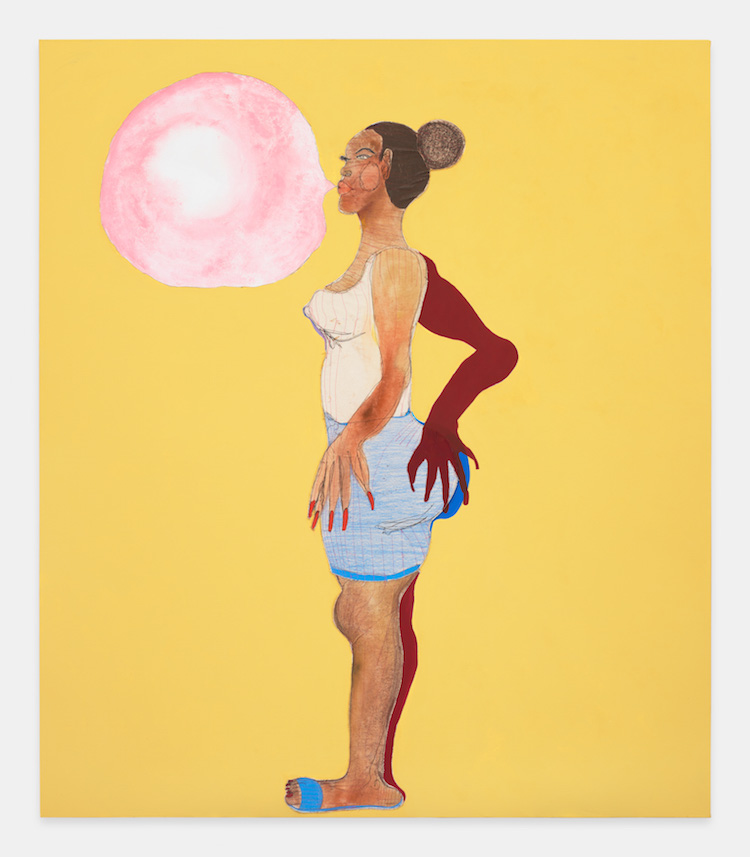 You have said your installation at the Hammer will be the final iteration of Bodega Run? Why are you choosing to stop making this work, and how has this informed what will come next?
I have decided to stop making my bodega works for now because I believe I have exhausted many of my formal and conceptual concerns regarding the project. I might return to the series in the future, but for now I am taking a break. The Hammer presentation of Bodega Run was extremely successful, and I am happy to end the project on a high note. In coming months, I would like to focus on a new environment inspired by my hometown of Harlem, USA.
What is coming up next for you? Any projects you are really anticipating?
Yes, I am extremely excited for my Studio Museum in Harlem residency group show at MoMa PS1. I am honored to be showing with Sable Elyse Smith and Allison Hamilton, my two fellow residents.