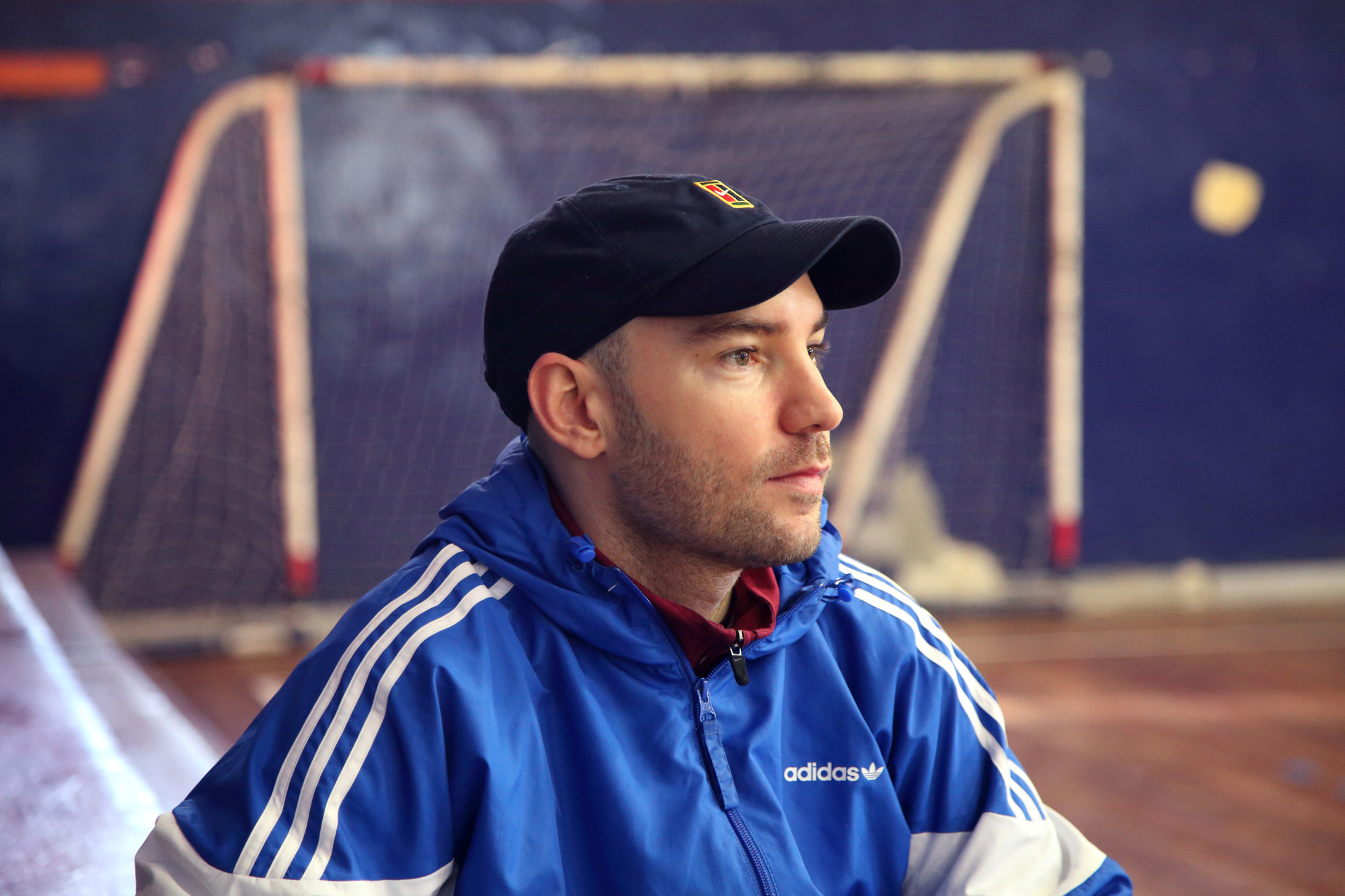 Martin Gordopelota
Ball Games
Interview by Felipe Pantone // Portrait by Marcos Lopez
Gordopelota literally translates to "fat ball," a perfect connection to the cherubic, cartoon-like sports fans painted by Buenos Aires-based painter and muralist, Martin Gordopelota. Endowed with features that resemble lowbrow, street-centric Botero figures, Gordopelota doesn't paint the iconic stars or legends of the pitch. His works are colorful depictions of football culture, like comic book versions of Bill Buford's iconic soccer hooligan memoir, Among the Thugs. But these are Argentinian scenes, not European, laced with particular details and elements that speak to a specific fandom and culture on the streets of South America. With fellow Argentinian painter Felipe Pantone asking the questions, we learn about Gordopelota's early days as an uncertain artist, his explorations into graffiti and fútbol culture, and his everlasting love of Will Ferrell. —Evan Pricco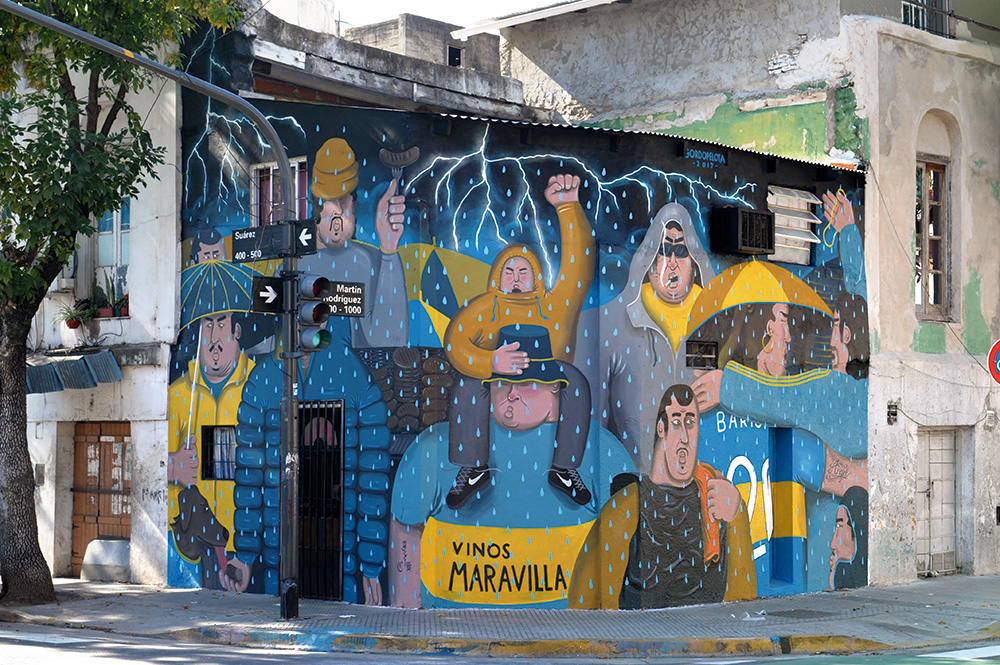 Felipe Pantone: What is it with fútbol? Is it a way of portraying Argentina's idiosyncrasies, or are you're talking about human behaviour on a global level?
Martin Gordopelota: I think it works as an excuse to touch on a lot of subjects, including what you mentioned. About Argentinian idiosyncrasies, fútbol works in a major way to create a national identity. At the same time, I think there is such a big social ego here that makes people think our culture is unique. I mean, on both sides of the coin, there's good and bad stuff. The myth of Diego Maradona is the best example of that.

I find it very funny that when a sports journalist from here interviews a player from another country, instead of showing interest in the subject, the first question is, "What do you know or think about Argentina?" There is such a need for feedback to make ourselves important. The more I try to use that local stuff in my work, the more I realize that people from around the world can empathize with those things. Regarding human behavior at a global level, I try to work with the amateur side of the sport instead of professional, industrial fútbol. And I think it's a great vehicle to speak about passion, fear, nostalgia, anxiety, frustration, pleasure, vices, friendship, confrontation, contradictions. Even if the context seems to be South American, I'm sure people from all around can relate too.

What is your own perception about Argentina?
I haven't traveled as much as I would like to, and all the places I know are from the Western Hemisphere. So I don't have such a wide panorama on the planet. I see Argentina as a place full of beauty and complexity in its contradictions. Even though I was born in Buenos Aires and now live here, I was raised in the countryside in a town called General Pico, La Pampa, about 375 miles away. The difference between BA and the rest of the country is huge. So you can imagine that someone from Jujuy in the north has nothing to do with someone from the capital. This is something similar that happens in all geographically big countries; in the USA, for example, there are a lot of different economic poles and populated big cities.

Most of the economics, politics, and big culture events are concentrated in Buenos Aires and its surrounding areas. Since the city's population is, like, more than 25 percent of the whole country, the dream of a federal country is not so federal. There is a popular belief amongst locals that Argentina has all the natural resources (many climates, beautiful mountains, Patagonia, the Atlantic sea, waterfalls and a lot of clean water, valleys, vast land, food, professionals and creatives) to be an economically strong nation, but corruption keeps us away from success. And at the same time, people who think that way behave in corrupt ways and fuck up all those resources.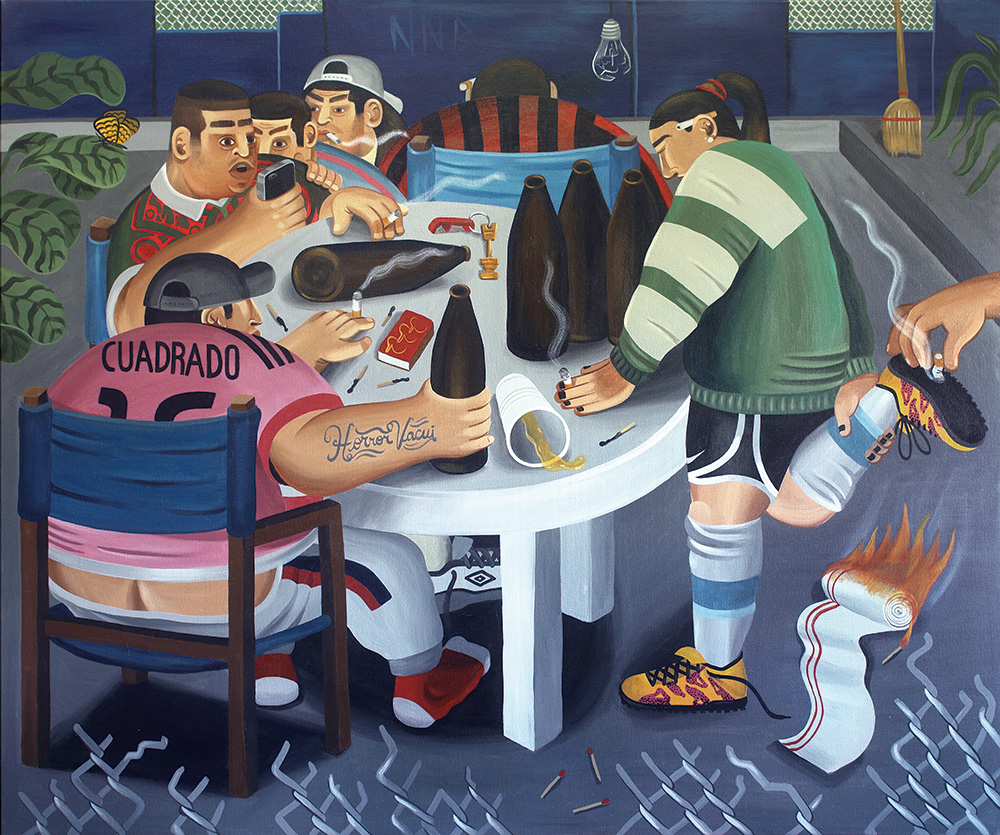 Location matters, so I guess all this affects your work, but let's go back to the beginning: when and where did you start working on visual art?
Well, I remember drawing chubby goalkeepers and basketball stuff when I was a little kid, but since I always thought I sucked, I just stopped doing it. When I graduated from high school, I went to study graphic design at UBA, the University of Buenos Aires. There was a morphology class that was all about experimentation with graphic techniques, and even though I sucked at that too, and failed the first time, I knew there was something there. Then I worked at some studios doing commercial work for beers and stuff like that. It was there that I met a friend who introduced me to graffiti. I realized I really loved drawing, and in graffiti, it doesn't really matter if it's good or bad. The important thing is to just do it. After writing graffiti for a couple of years, I realized I could draw or paint whatever I wanted, so I went back to chubby goalkeepers.

Those were interesting times. Can you tell me a little bit about how the graffiti scene changed in Buenos Aires during those years? What do you think is left from that time, and how do you see graffiti there nowadays?
Well, before that, the scene was probably in an adolescent stage. It was slowly growing, but not many people were painting. There was no such a thing as a Buenos Aires style as opposed to Paris, São Paulo, New York, or whatever, and street art was probably stronger than the graffiti writing. I think that many visits from people from abroad motivated locals to develop a style and also to travel and paint in other places.

Suddenly, the scene grew up really quickly, and in 2011-12, everything exploded. The explanation of that explosion at that time had to do with complete freedom to paint in the street and the government not giving a shit. At the same time, people really embraced it. Locals would bring you facturas [croissants] while you were painting their wall! It was almost legal. Maybe you remember a Sunday we spent in Cordoba Avenue and 9 de Julio? Well, the thing is, a lot of kids starting painting and the city got full of tags, and subways looked like NYC in the 1980s. The result was that people got a little tired of it and the city started spending money on cleaning graffiti, so the buff was born. Nowadays, a lot of writers from that early time are amazing artists; some continue to write graffiti, and some others, like me, don´t.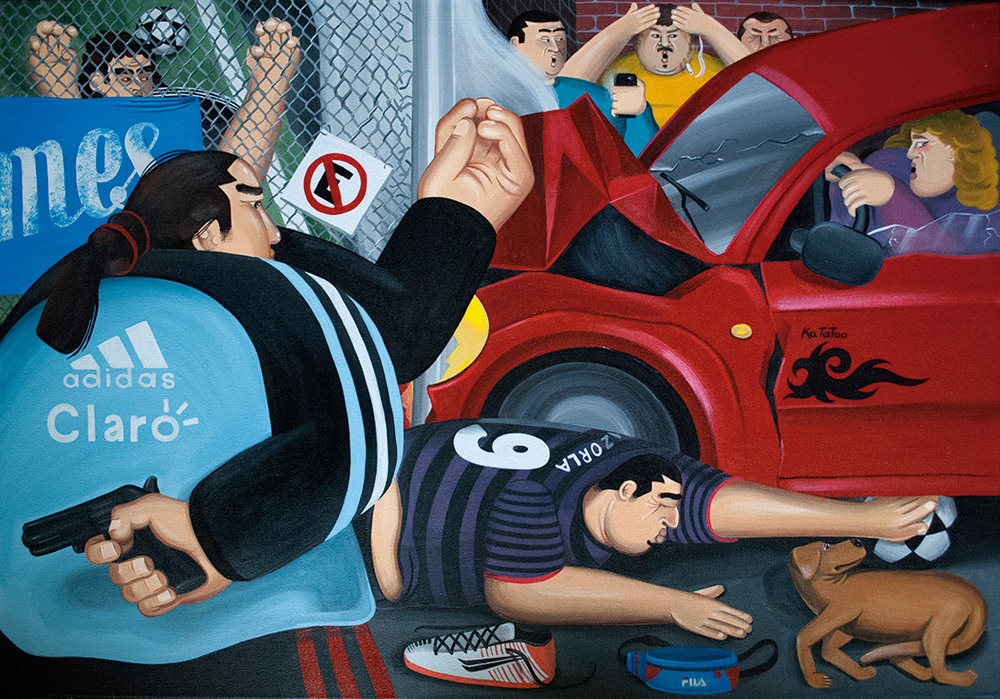 Of course I remember! Good times! So now you say you're not doing graffiti at all? I'm also doing much less. Are we becoming bourgeois, or are we finding the same pleasure in the studio? Where do you see your studio work going?
[Laughs] I´m not painting graffiti at all. I feel you. I think becoming a little bourgeois is totally fine around 30. It's as natural as growing a little gray hair or some wrinkles. Sometimes I see people trying to force and expand their teenage or twenty-something spirit, and it looks as weird as botox or plastic surgery on old Hollywood celebrities. The essence of graffiti is about the style, or where you paint, or how big, enjoying everything around doing it, but it doesn't matter the what. You are just writing your name over and over.

In the studio, the thing that matters the most for me is that what. Maybe the next step will be to take care more about where and when I show it, how big I do it, and working more on my technique or style.

Dude, don't kill the dream! I still feel like a teenager when I paint a train here and there! Talking about studio work, as a spectator and fan, one thing that I'd love to see is your characters or your still life in a sculptural format, maybe ceramics. Is this something that you have considered doing? Do you think the three-dimensionality would open new ways for expression?
I know, you're right, it's cool to feel that rush. I just start worrying if I look like Hans Moleman dressed as Bart from the Simpsons, ha ha. About sculptures, I do have a lot of ideas to create three-dimensional artwork, not specifically with characters. But I'm still trying to figure out acrylic on canvas, so I'm being patient; it will happen in the future.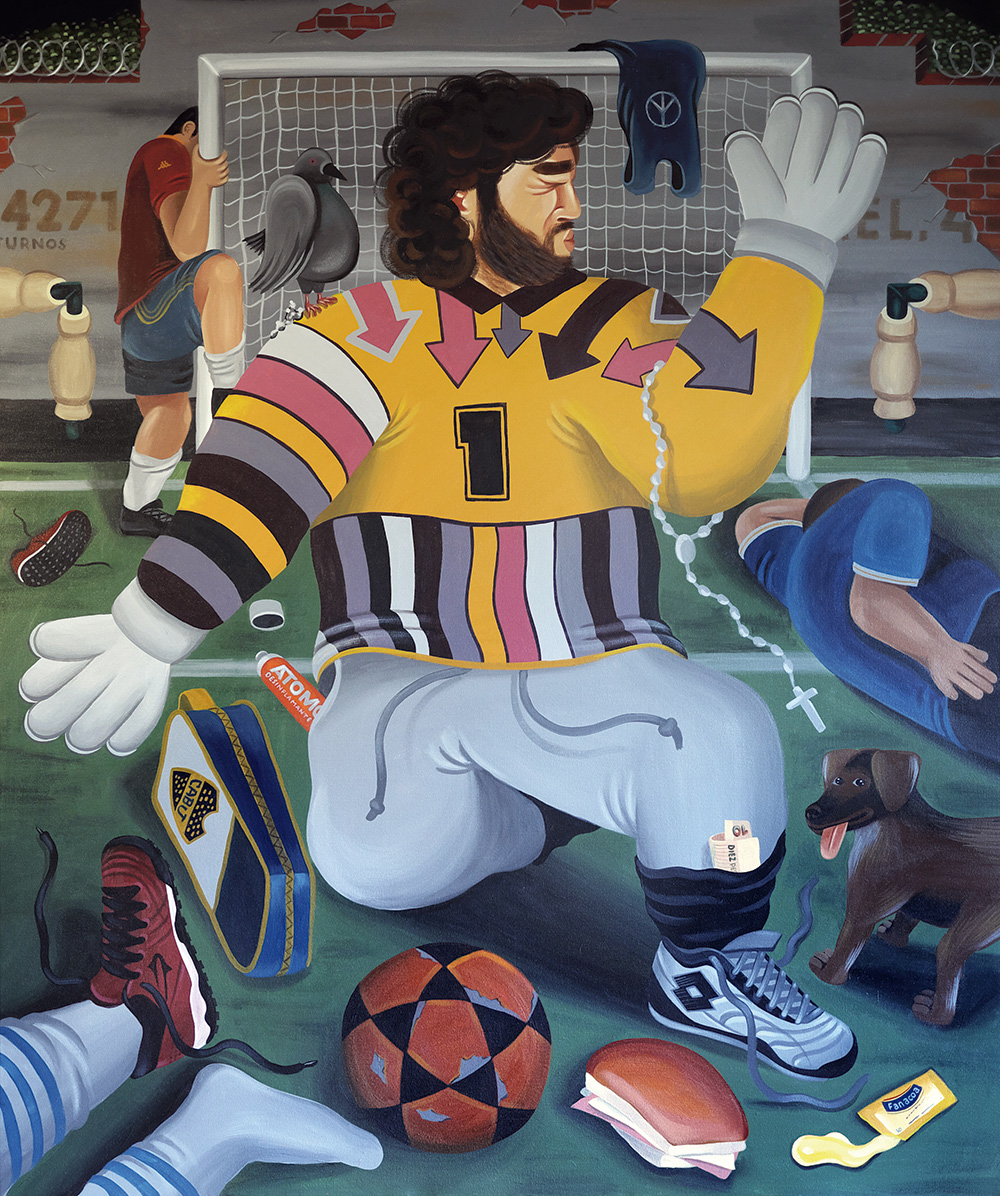 I bring this up because I can't help seeing your characters as twenty-first century, low-life Fernando Botero characters. What are your influences? What kind of art do you like that isn't necessarily reflected in your work?
Somebody told me the most flattering thing recently: "You are like the son between Botero and Chiqui Tapia," the Argentina Futbol Association's shady president. Botero is, of course, a big influence, but his work is much more sophisticated than what I aim for. I think I like Beryl Cook. She was a British folk painter who also worked in volume with characters and local scenes, but the technique seems to be more rough. I´m also very influenced by Florencio Molina Campos, he was kind of like a gaucho painter-cartoonist. My grandma had a lot of prints from him and I loved them as a kid. It's a really cheesy, Argentinian classic, but I can't help it.

I recently went to Paraguay and flipped out with the work of local folk painter Fidel Fernandez. Other artists I really admire right now that I think have had some influence on me are Archibald Motley, Berni, Diego Rivera, Ed Gray, Marcos Lopez, Franco Fasoli, Nyoman Masriadi, Paula Duro, Finok, Robert Williams, Celeste Dupuy Spencer, Roy Ferdinand, Bebeth, and probably some more. Then there are artists I love who maybe have nothing to do with what I do: You, Rodrigo Rodriguez, Emanuel Veco, Orco Videos, Martin Benchimol, Nemco, Sawe, OSGEMEOS (love their fine art, but their graffiti style is what I like the most), Paul Loubet, all the Corbeta Halcon group, Pablo Benzo, Grolou, David Simon, Will Ferrell, Sade, Escif, Stelios Faitakis, Lionel Andrés Messi…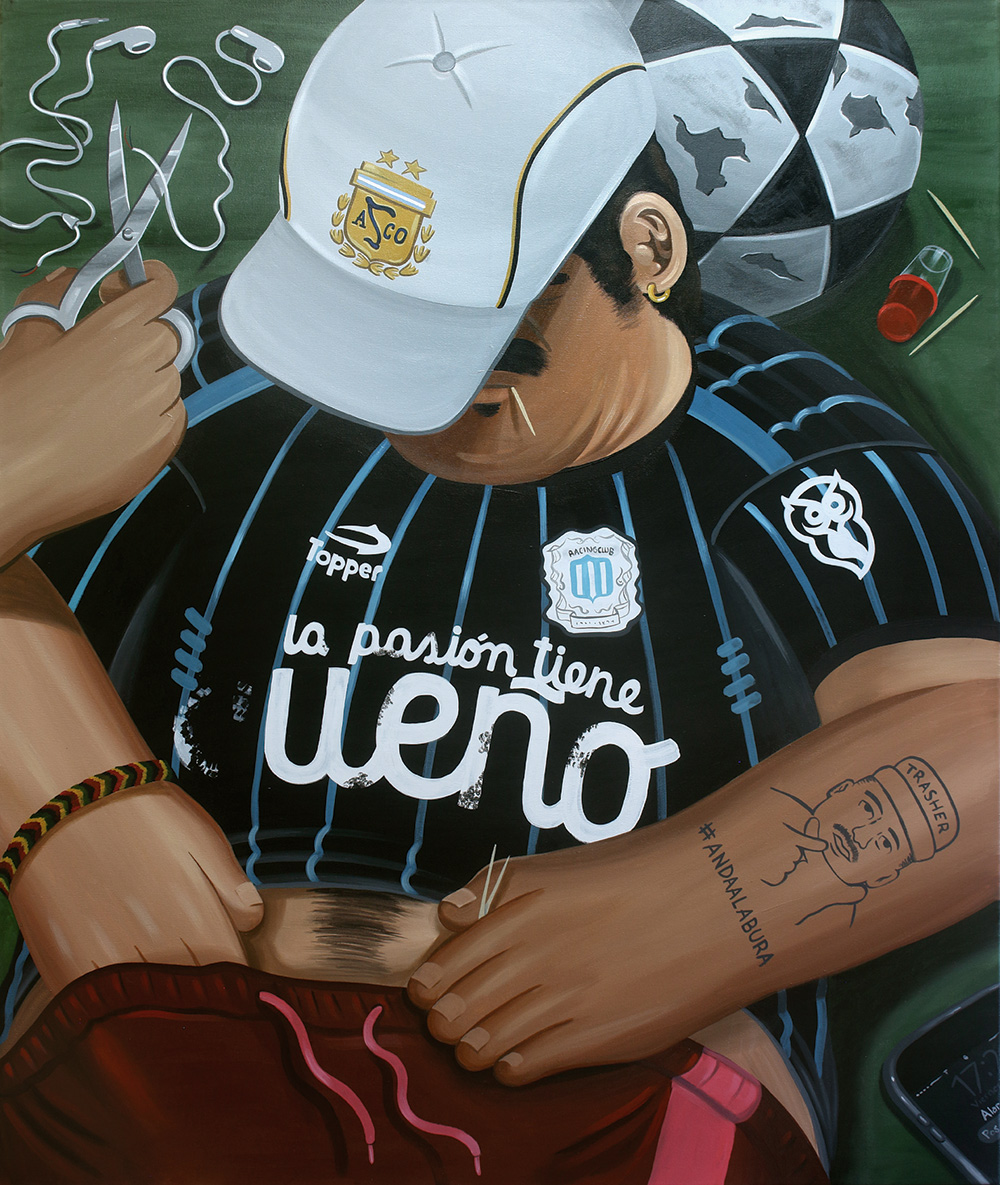 I will have to Google more than half of those names, but it really makes me understand your work better, especially Ferrell and Messi. What do you see yourself doing in the next few years? Do you have any goals or dreams that you want to achieve in your career?
Everything changes really fast from one year to the next, so I get extremely anxious if I think too much into the future. My main goal right now is to recover from knee surgery that kept me out of painting murals and playing sports for almost a year. Otherwise, I see myself pushing my work to see where it goes, hopefully, to a place I can't even imagine right now. I would hate to settle, or get bored by what I do, so my other goal would be to become even more curious and more prolific.

gordopelota.com